A couple of days ago, Millward Brown released its latest BrandZ Top 100 Most Valuable Global Brands Study (that's quite a mouthful!). Ignoring for a moment the clumsy name of the study, I found the results to be fascinating. Globally, the United States dominates the top-10 slots, with just one non-U.S. company — China Telecom — squeaking into that exclusive group at position #10. I thought it was interesting that of the top-10 most-valuable brands, 7 were technology related (including communications providers), 2 were food and beverage related, and 1 was a drug — tobacco, to be exact.
And the rankings? Perhaps it's no surprise that Apple is #1, with a brand value of $182.9 billion (a rise of 19 percent over last year's value), IBM was ranked #2, with a brand value of $115.9 billion (an increase of 15 percent), and Google was #3 with a brand value of $107.8 billion.
Here's a listing of Millward Brown's top-10 most valuable global brands: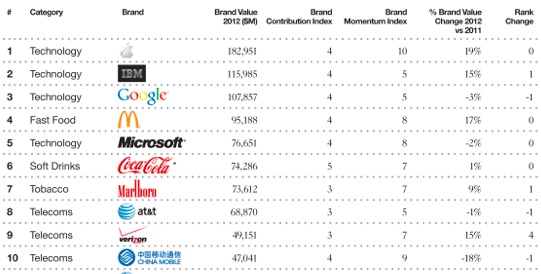 In addition to these top-10 companies, 90 other businesses filled out the top-100 rankings. You can download the complete report on the Millward Brown website.
So what does this mean to you — and to your competition? According to Millward Brown:
Technology Prevails: Technology has become ubiquitous in all areas of our lives. Seven of the top 10 brands are technology or telecoms brands. However, the power of smart, simple-to-use technology can also be seen beyond these two sectors. In other categories – cars, financial services, luxury and retail for example – we can also see that brands are gaining significant advantages by using smart technology to enhance their customer experience. For example, Burberry – up 21% to $4 billion – created a virtual world where younger brand followers can view fashion shows and more.
The Rise of Africa: This year's ranking highlights the progress of Africa's economic development with the arrival of the first African brand in the Top 100 – South African mobile company MTN – No 88 at $9.2 billion. But it's not just African brands that are thriving south of the Sahara. Around 40% of Guinness's sales come from Africa, Airtel's third quarter results showed a 16% increase in revenue in Africa. Similarly, Orange enjoyed rapid growth in Africa in 2011, while Walmart invested there with the acquisition of Massmart.
The Future is Mobile: The future of the internet will be predominantly mobile rather than computer based. Mobile, to some extent, has been shielded from the recession as one of the few items consumers don't want to give up or cut back on. The most valuable telecoms brand is AT&T worth $68.8 billion. The USA's largest mobile service provider, Verizon, increased its brand value by 15% in the last year and is now worth $49.1 billion.
Retail: Constructing an Omni-Channel Business: The customer experience is a new focus for many retailers as they recognise its importance in keeping customers loyal and the need to be present anywhere and everywhere on the path to purchase. Walmart knocked Amazon from the top position and its brand is now worth $34.4 billion whilst Amazon is now worth $34 billion.
Brands with Women on the Board Outperform: As the number of women on corporate boards continues to rise, the BrandZ Top100 study this year reveals the success that women bring to brands. 77% of the brands appearing in the BrandZTM Top 100 Most Valuable Global Brands have women in the boardroom. The average value of brands with women on the boards is $27 billion, double that of those companies without female directors. Not only that, these brands also show an average five-year growth of 66% compared to an average growth of only 6% for those BrandZ Top100 brands that don't have a woman on the board.
Strong Brands Provide Better Shareholder Value: An analysis of BrandZ Top 100 Most Valuable Global Brands as a 'stock portfolio' over the last seven years shows a highly favorable performance compared to a current stock market index, the S&P500. While the total return on investment (ROI) for all companies in the S&P500 index was just 2.3%, the BrandZ Portfolio provided a 36.3% ROI, proving that companies with strong brands are able to deliver better value to their shareholders.
For any business, brand is an important element in differentiation, value, and competitive advantage. What brand does your company project, and is it the one you want? If not, then you've got your homework laid out for you.